N'yuck N'yuck N'yuck...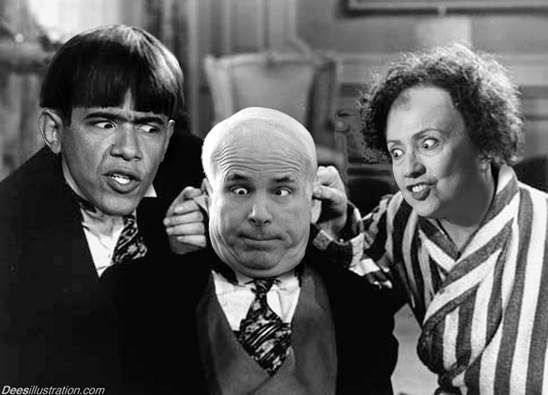 You may have already seen this...um...political poster. (I'm always at the tail end of these things.) It was distributed around my office today by my friend the republican architect. Two things jumped out at me immediately.

First (probably because I'm "chick-like" in my power) was that it was kinda sad that Hillary got stuck with the Larry hair...but I suppose it coulda been worse, given the alternatives.

Second was that John McCain had been cast in the role of Curly/Shemp/Curly Joe (it's so hard to tell, you know?), while Barack Obama had been given the role of Moe Howard. Sure a stooge is a stooge, but when it comes to these particular guys, Moe is BY FAR the brains of the operation, as well as the clear leader of the group. Probably doesn't mean anything in the context of the photo. I just thought it was interesting (considering that any of them could have been put in any of the positions equally) that Obama had been cast as "Moe".